Beer King and Karaoke Queen
Hey! It's me again!!! Sorry, this time I am a week behind…
How are you guys doing in Germany? I have heard that it has already got pretty cold there. If you think that I am lying in the sun and chilling all the time, then you are completely wrong! Firstly, I always have tasks to do at the work and most of the time I even don't take a lunch break, because every one brings his own lunch and eat in front of the computer in the office like workaholics. Little by little I am acting like them too! Secondly, here in Melbourne it's not that warm as you may have thought! It's still spring time (unlike in Brisbane, lucky Helge!) and it's not warm enough to get suntan.
Don't get me wrong, I am not complaining, I just think it's such a pity that I will have to leave when it's getting really warm in December towards Christmas time. Can you imagine having Christmas in tops and skirts? It must be really funny to spend a Christmas like this!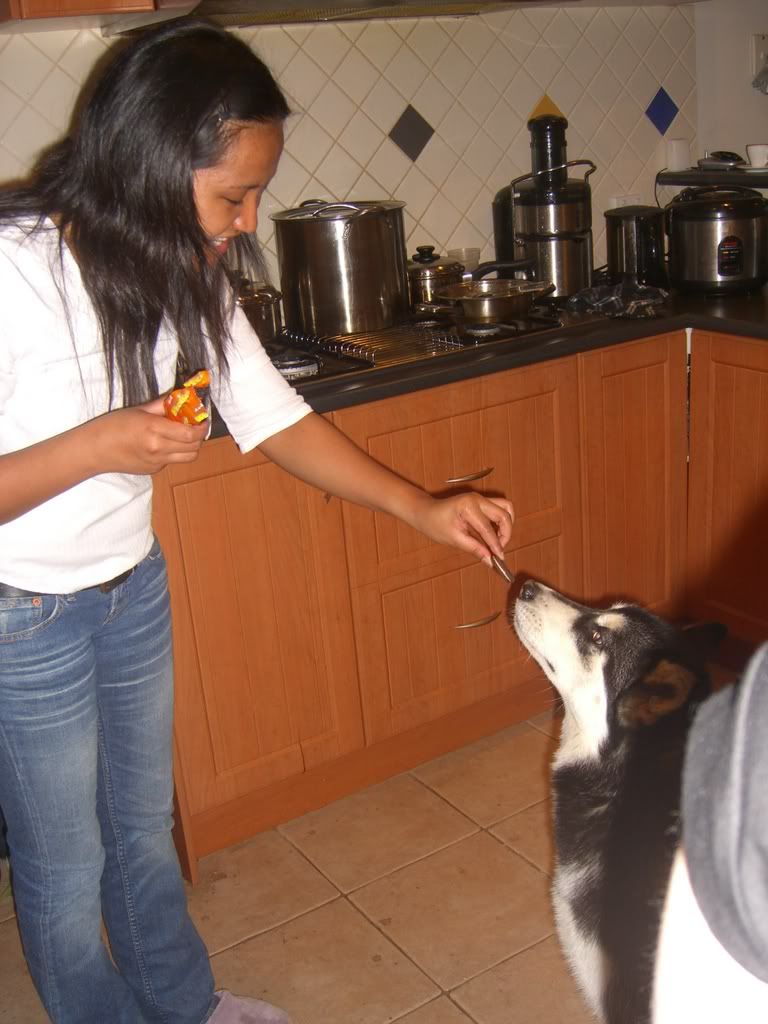 Well, what did happen last weekend: On Friday Helge and me are invited to Rhea's (friend of Kathrina) house to have dinner and sing karaoke! Honestly, what else do you expect if 3 ½ of us are Asian (Rhea is half Philippines and half English)?! Rhea lives alone with her daughter in a big house in west of Melbourne. Even they are only two, they have 3 TVs, two of them flat screen and bigger than a queen size bed, Nintendo Wii, 2 laptops and a desktop computer! Not Bad! They also have a dog, a 8 month old Husky! She is really cute and can already shake your hand and make a high five! That's why Kathrina gave her cookies to spoil her.
After dinner we started singing karaoke. We girls were already very excited and I was quite surprised how many Karaoke CDs of different kinds of music they have! They must be crazy about Karaoke, especially Rhea, who began a CD full of old love songs and sang emotionally. Believe me she was really good at it and can yell quite loudly!
The boys Francis and Helge refused to sing at once, because they were not drunk enough. But after a few beers we forced them to sing a duet together for us and we shrieked like teenagers while they were singing, so funny! Later on Helge and me sang romantically "the time of my life" from dirty dancing!
Although I love playing Sing Star, I would prefer the real karaoke, because you don't need to care how many points you have scored and you can feel free to sing just as you like.
We have been singing and drinking for hours until Kathrina who was drunk a lit bittle and me were so tired that we fell asleep on the sofas at 3:30 am. Rhea and the guys decided to finish all the alcohol before go to bed and continued therefore chatting and drinking till almost 9 'o clock in the morning, no kidding!!! You don't really have to wonder why they need so long, because we bought for 5 of us 24 cans plus 4 800ml bottles Foster beer and a blue curacao!!! Don't worry, this time I didn't touch the blue dangerous alcohol at all. At the end, Helge turned out to be the real Beer King, because he was the only of the 3 who didn't get drunk.
Saturday was a quite short day, since we got up very late. It was a very warm day, so we decided to go to Williamstown town (a district of Melbourne) beach. Though when we got there, it was almost sun set. Nevertheless I put on my bikini and tried the water. I thought I would get used to the cool water after a while, but it was so cold that it's hurt a little if you only stay in the water.
In the evening Helge and me abandoned our plan to go for a party and stayed home, because we were so exhausted from the karaoke night before. On Sunday morning I said goodbye to him half in sleep and since that day I am pretty alone.
No worries, I am busy enough anyway. E.g. on Tuesday I spent all the night to move to another apartment in the same house. I have told you about that painful noises coming from a water pipe which awoke me often several times during a night, right? Maren and me have already asked them for a thousand times to fix this damn pipe since we are here, but nothing didn't happen until I told them last week seriously that they have to move us, because we can't just sleep well with this noise!!! Finally we got another room. Since Maren is still in holiday, I have to move my and her stuff which took me 3 hours to do it. However, the entire struggle was worth it, because our new apartment is prettier. It's not bigger but we have a really nice view of the city from it. And guess what: I have a queen size bed in my bedroom, hehe!!!
Good news is now followed by a bad news: My TV is broken!!! When Maren was here, we don't watch much TV, but since I am alone, it's so quite in the room without a TV. I asked the people at reception today to fix it. I guess that they already begin to hate us after so many troubles, water pipe, fire alarm etc. But this time it's not my fault at all. It happened just suddenly that I could not see anything more and only hear the sounds on the TV, really weird or it's just my bad luck?! That's why I spent last night to watch some King of Queens episodes on my laptop. I love this soap, especially as I discover more and more commonness' between Doug & Carrie and Helge & Me in terms of how we behave and talk to each other, how funny!
By the way, do you know that the Aussies show a lot of same stuff as we do in Germany? Let's begin with "Australia's Idol" a la "Deutland sucht den Superstar". Believe the candidates here are much worse than those in Germany, they really can't sing!
Then we have "Deal or no deal" which Helge thinks is much better than ours (I don't watch it). "Dancing with Star" looks for me quite the same like in Germany except that I don't know the Stars. "Wer wird Millionär" is called "Who wants to be a multimillionaire". You see, the Aussies are more generous than the Germans! I saw it 2 days ago and I have the impression that the questions are not that difficult.
I am not kidding, there is a TV-show called "Are you smarter than a 5th Grader?". This is a kind of quiz show and the candidates can cheat with help of a 5th Grader or copy his answer to get to the next level. You will be astonished how stupid some people are, because the questions are really for school kids from first to 5th grades, for instance, "what equate 1+2+3+4+5+6+7?"
How ridiculous that people win money for answering this easy question??? I believe either the Aussies are not that smart or they are just too generous!

Additionally, you can also enjoy a lot of same soaps like "Simpsons", "House", "Prison Break" and other stuffs like these. So I think sometimes to watch Australian's TV programs is just like to watch German's except that everything is in English. I guess it's one of the effects of GLOBALIZATION.

Cheers.