Hiya!
I spent a weekend in Helge's city Brisbane 2 weeks ago and it was 2 days full of program: Some were great experiences; some were, however, unsuccessful.
Firstly, some impressions of Brisbane and Queensland: Generally, if you just see the South bank area along the river with many high towers, the city of Brisbane seems to be another Melbourne. But if you go through the streets, you may think you are just in a small town or a big village, because it's so quiet on the streets even on weekend, whereas in Melbourne there is always something going on. I have heard that 1.8 million people are living in Brisbane, where the hell are they?!
I really can't see many of them going out at the night.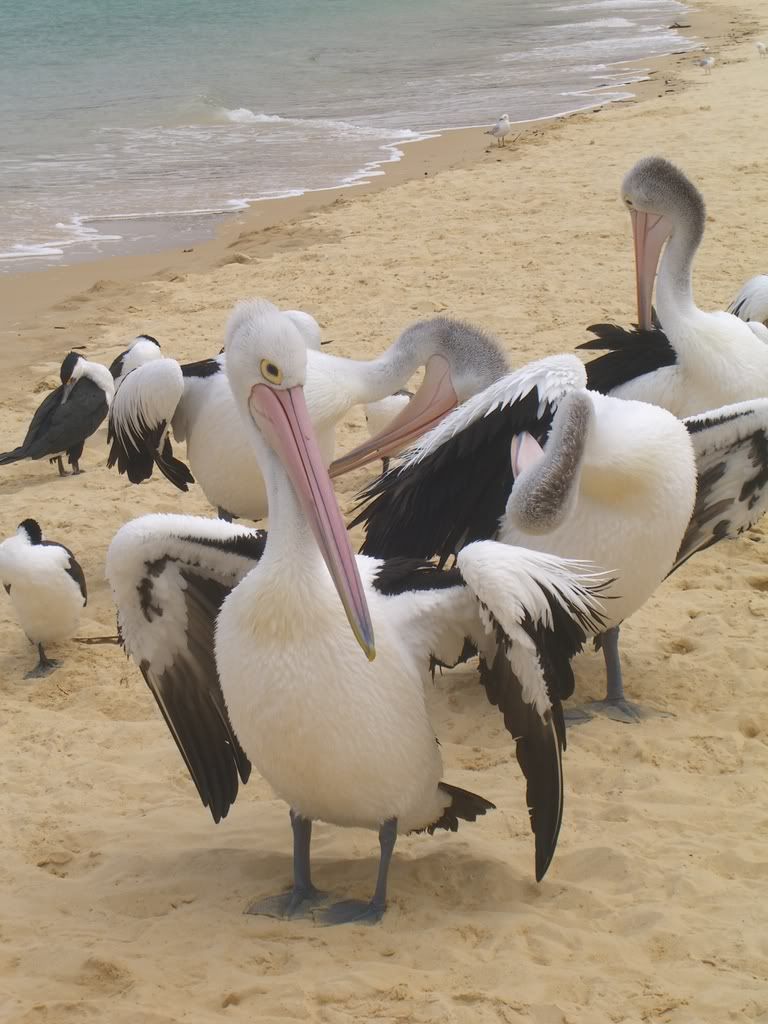 Whatever, Helge, Steffen (a German Informant and a friend of Helge) and me went to Tangalooma Dolphin Resort on Saturday. It's an Island that we had to take ferry to get there. The weather forecast was not promising at all and it was actually very cloudy when we arrived there. We saw first a lot of pelicans on the beach, really amazing, as I have never seen these birds so close!
Since the weather was getting warmer, fortunately, we just have looked around a bit, relaxed on the beach for a while, taken some photos to capture the beautiful scenes on the island. Steffen is really a nice guy. I got along very well with him, especially because he is crazy about good photos like I do. Whenever we saw something nice, it's either me or Steffen who said "I have a good idea for a perfect photo!" Although Helge doesn't enjoy taking that many photos, he had no choice but to wait for us until we were finished with our photo sessions. Look, does this picture convince you of our great ideas, doesn't it?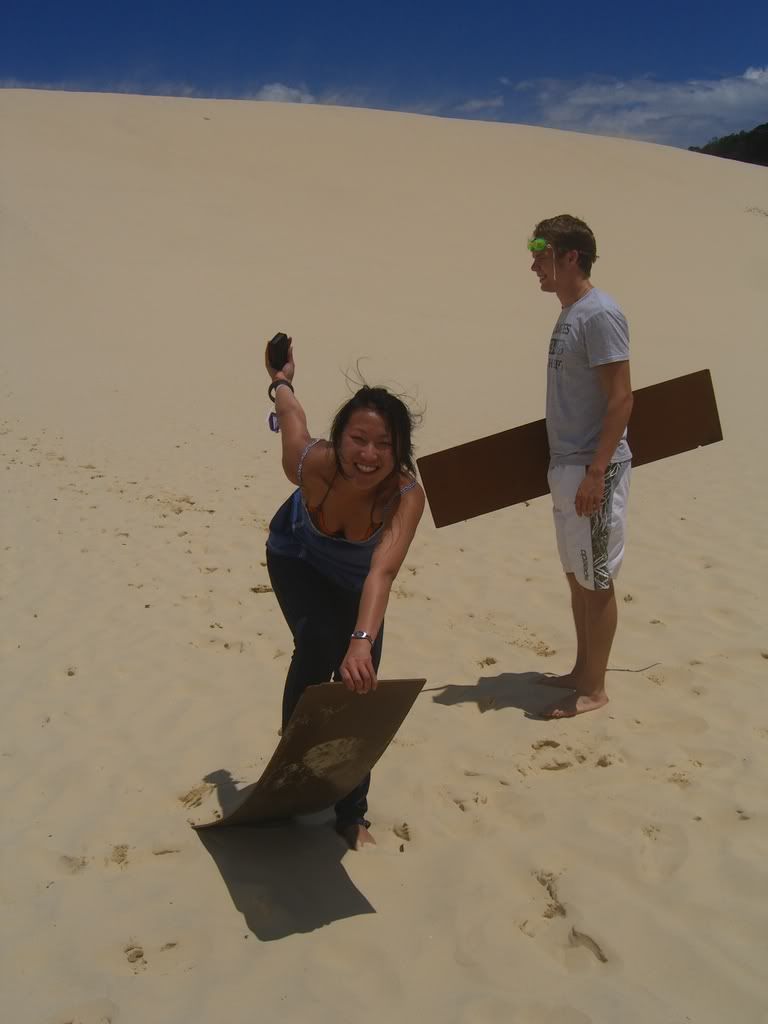 Later on we did a desert safari tour with a bus that took us to a sand dune on the island. There we got instruction from the bus driver how to do a sand tobogganing with a board from the top of the dune.
I, already very excited like a child, had the first go before the guys. The only thing you have to do is to lie on the board with hand holding the board. Then the bus driver just gave me a push that made me to start sliding down the dune. And if you hold your body very strained, you can gain a lot of speed, which was good fun! But what you could not avoid was the sand that was blowing into your face and mouth. It has already become very hot in the meantime (the weather is really unpredictable in Australia) and we were not prepared to this weather at all. Helge and me even didn't use sun cream. Fortunately, my skin was not that sensitive, just got a little sunburn on the back. But poor Helge and Steffen with their red faces!
Back to beach, we hired some snorkelling gear because we were told that there is a wreck in the water where you can see a lot of fishes swimming around. It took us about 15 minutes to walk along the beach to the spot where the wreck is. I can tell you, the beach is so fabulous and the water was shining in the sun!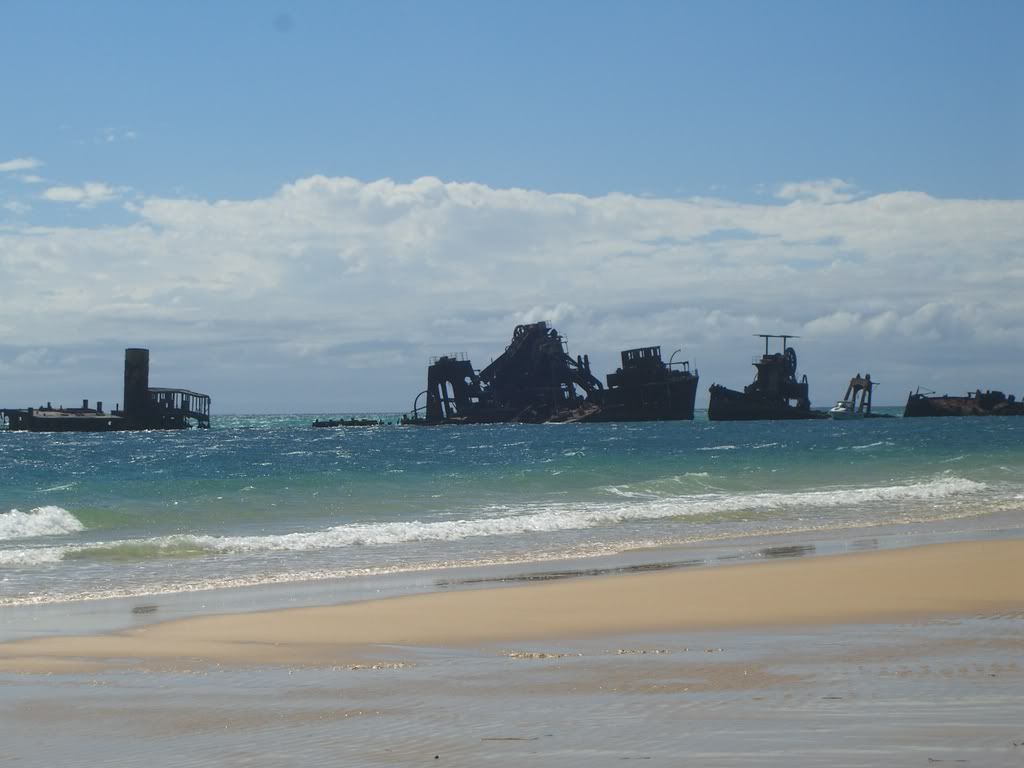 Honestly, I have never snorkelled before and it felt so unusual to breach with the gear, so I was already quite exhausted after swimming from beach to the wreck and I had a cramp in my foot that made me feel a little uneasy. Nevertheless, I tried to swim with the guys near the wreck and saw small fishes under the water which was quite cool. However, we couldn't only see the fishes but also the wreck just a meter underneath our feet which looks really creepy and reminded me of the movie "Titanic". Helge kept swearing because he was scared to see the wreck and fishes so close to him. Steffen and me didn't feel very comfortable either, maybe because the water was pretty cool and we didn't wear any wetsuits that we felt a little bit unsafe to swim near the fishes. Since my cramp got worse too, we swam back to the beach and took some pictures. At least it was a good experience to know how snorkelling feels like!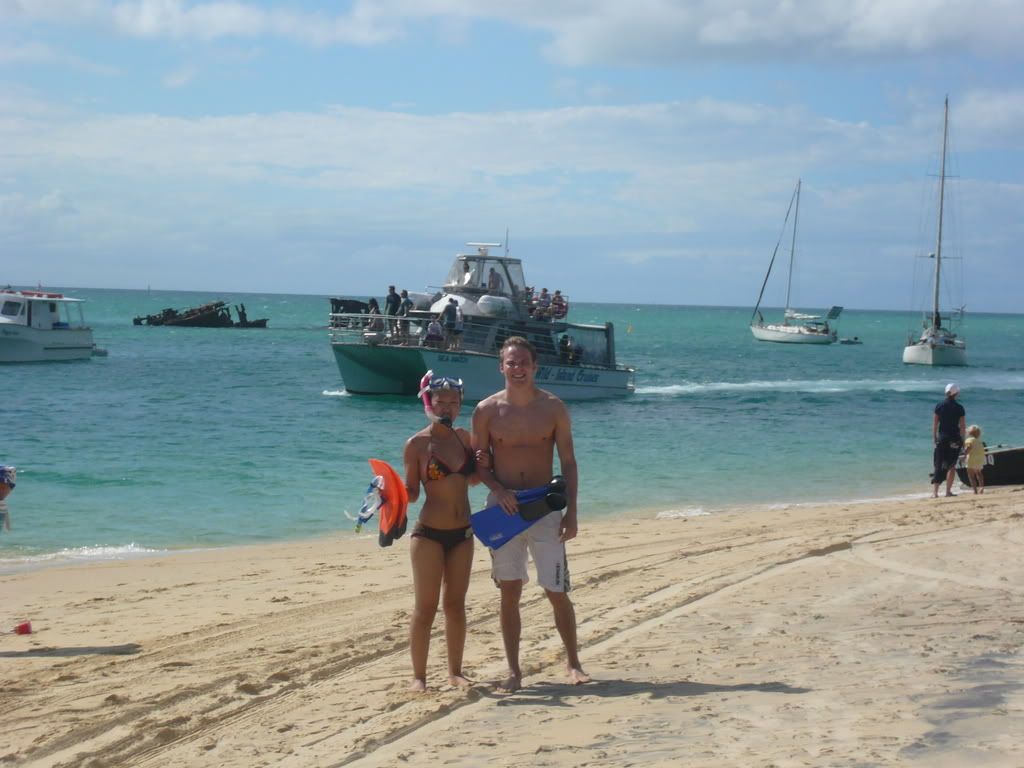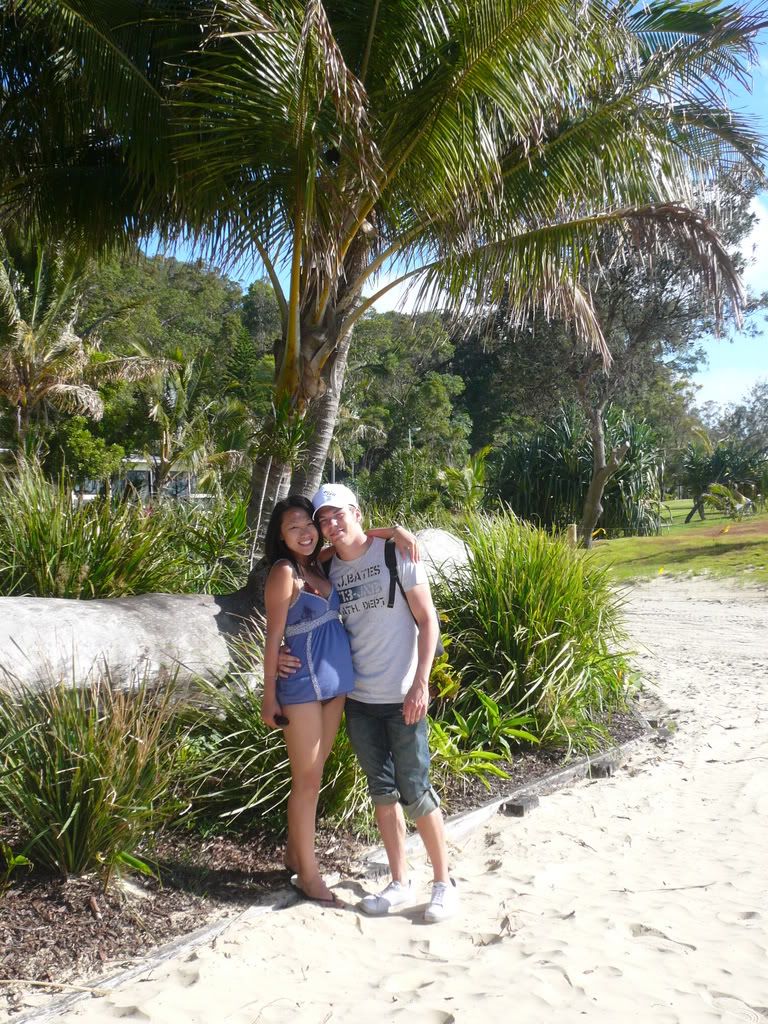 That was pretty much of our trip to Tangalooma. It was one of the loveliest days I have had in Australia. I really enjoyed it much and it's a shame that we could not stay longer there! At the night we met Steffen in the city for dinner and walked to the river to see the south bank area. Beside of that, there is not really much to see in Brisbane.
For Sunday we planed a trip to Surfers Paradise in Gold Coast with Steffen and Daniel (another German guy from Helge's office). Honestly, I have already been exited about this trip since I knew the plan, because I really wanted to try surfing what I couldn't make until now. Since Helge has already surfed once and was quite successful, I thought it would be great to let him teach me for my first try. Unfortunately, it turned out that the weather didn't look good at all when we got ready to leave home in the morning. I was hoping that the weather would get better suddenly like it did the day before on the whole drive.
But it was hopeless: When we arrived in Surfers Paradise, the sky was still covered with clouds and it was showering. Later on, it even became more gusty and colder. And the water was just too stormy to surf, especially for a new beginner. How bad was that?! I mean, I have always heard from Helge how warm it is in Brisbane. Once I was here just for one weekend, the weather was such bad, how disappointing!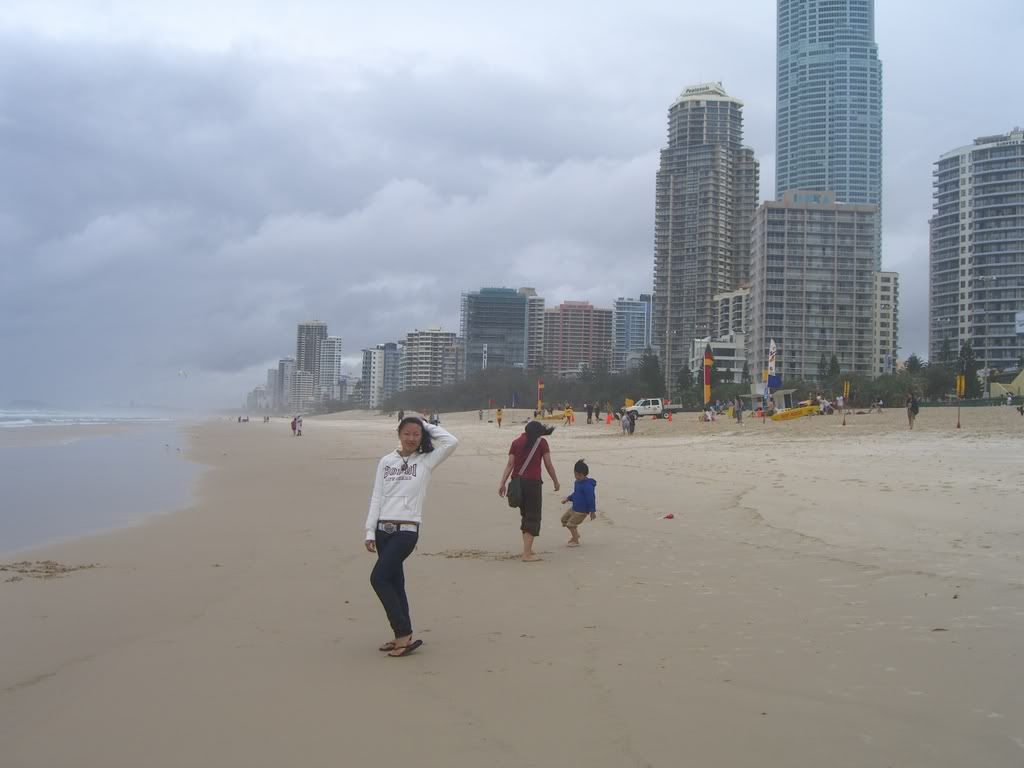 Since our surfing plan failed completely, we only stayed on the beach for a short while to show me the towers along the beach which is the symbol of Gold Coast. At least I can tell now that I have been to Surfers Paradise in Gold Coast once! It was a busy weekend and I was totally exhausted when I came back to Melbourne in the night of Sunday. Although we had bad luck with the weather, I really had a great time in Brisbane. I think I would agree if someone says that Brisbane is beautiful and a good spot to get to the fantastic beaches for holidays. But for living, watch out Queensland; choose Melbourne, because Melbourne is definitely the most exciting city ever in Australia!
Cya!